Why Wooden Bottle Boxes are
The Best Gift Packaging Choice

Rose Miller, 18th October 2023
In many ways, the WBC story starts with the wooden bottle box. As our first ever product and where it all began, we have a lot of love for the humble wooden wine bottle box.
We started as a company selling Personalised Champagne, and designed some wooden boxes purely for our own marketing use. As with many company stories, a series of unplanned events, unexpected turns and a little trial and error led to WBC becoming what it is today; the UK's leading supplier of retail display, packaging and fabric bags. It's safe to say we've moved on from our OG product, now supplying over 1600 products for retailers, delis and wine merchants across the UK, but we'll always have a special place for this top pick.
Functional, eco-friendly and aesthetically pleasing, our wooden bottle box has remained a popular choice for good reason.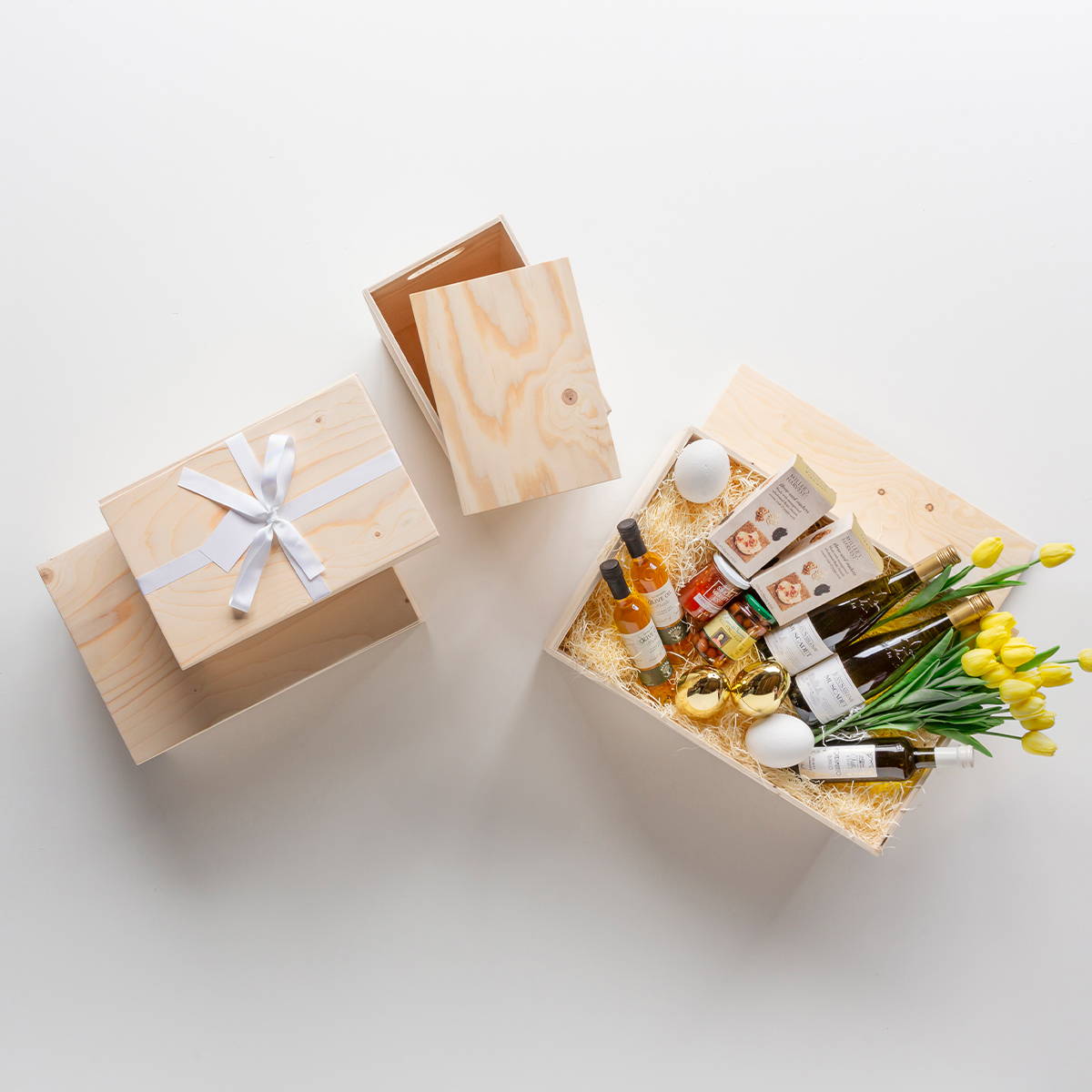 Why Go For a
Wooden Bottle Box?
The luxury feel
Wooden bottle boxes provide a sophistication to any gifting experience, whilst also ensuring ultimate protection. A lot of retailers are after simple, affordable ways of turning their bottles into a luxury gift to upsell their stock. The premium feel of a wooden bottle box provides this perfectly, turning a simple wine bottle into a ready-made hamper.

Reliable protection
It's all very well looking the part but packaging needs to do one thing first; send and deliver your precious items safely and securely. The wood material makes for a far sturdier packaging solution than a bottle bag, providing the functional protection needed to deliver a wine bottle. At WBC, our plain, standard size bottle box forms part of our economy range of sliding lid wooden boxes and consists of a pine wood base, sliding lid and cotton rope handle.

Eco-credentials
As consumers become far more eco-conscious, we know that sustainability is front and centre for retailers. So our wooden bottle boxes have quickly picked up popularity for their reusable, recyclable and biodegradable properties.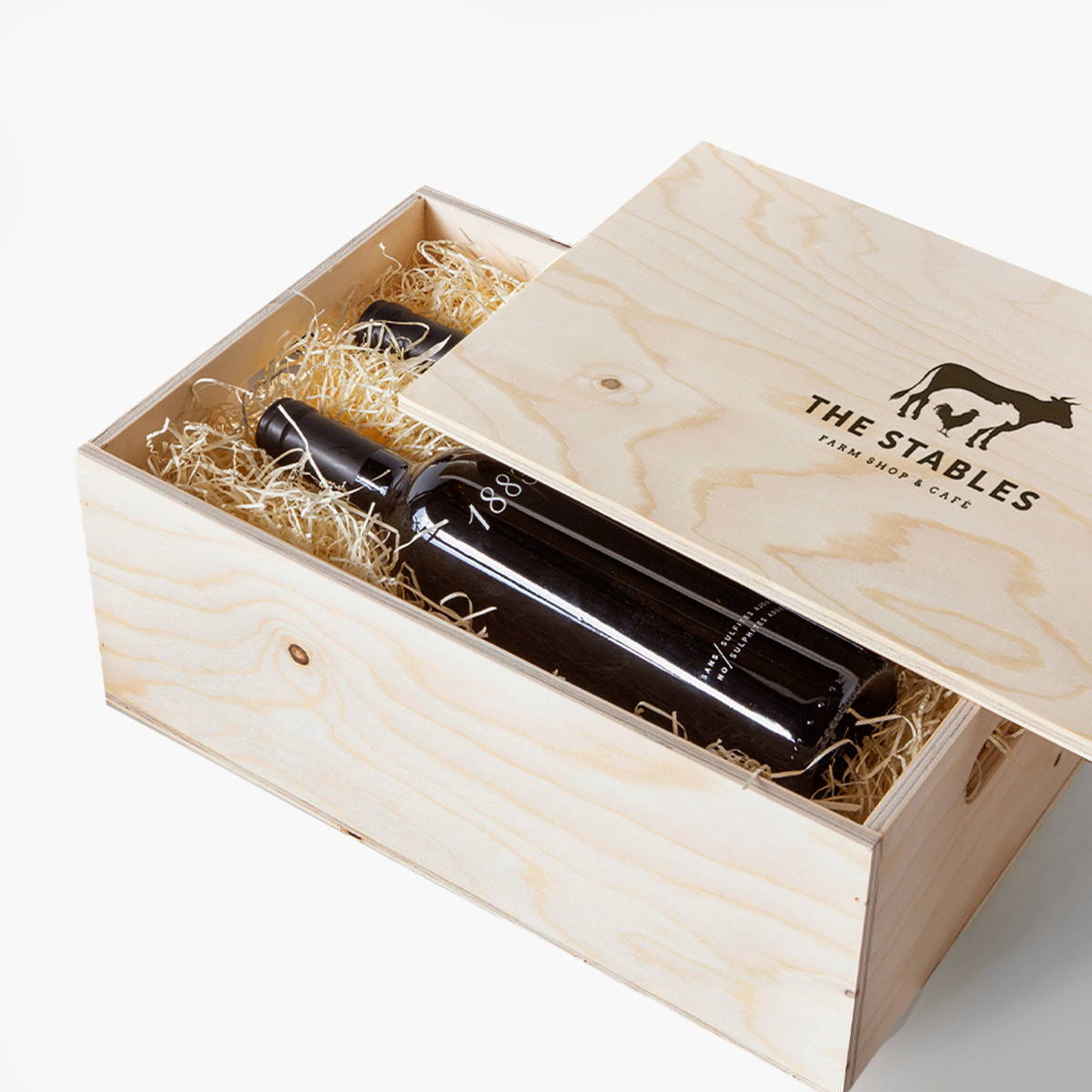 How To Use
Wooden Bottle Boxes
Take your gifts up a notch
Fancy charging more for the same product? With our wooden bottle boxes, you can upsell any wine box by adding a little extra presentation. Showcasing your finest wines, spirits and champagnes in a silk lined or sliding lid gift box immediately gives that premium look.
Our luxury elm wood box with silk lining is a great example and works perfectly for Christmas or any gifting season.

Make them into mini hampers
Our 3 bottle wooden box with sliding lid is an ideal way to turn a bottle box into a gift box, filling it with jars of preserve on one side and a bottle on the other. The versatility brings a whole new dimension to gift creation and allows retailers to mark up products by giving their customers ready-made gifts ideas.
Try filling your boxes with Shredded Paper or Wood Wool choosing from over 30 vibrant colours to really finish off your hamper upgrade.

Personalise it
An artful way to add value to your gift packaging is to add custom details. With
our personalisation service you can customise your items by overprinting your company logo, company name or unique design. Adding your own branding not only gives your packaging an added flair, it's also a perfect way to promote your brand - especially on items like these that are often kept as keepsakes.
How about creating a whole new range by adding Christmas designs or seasonal messages and making a ready-to-go festive gift? Try our popular Bottle Wooden Box with xmas tree window - a festive favourite.